Choosing backsplash can seem like an overwhelming decision. Your backsplash should speak to your style while tying in with the rest of the space. This is where you can choose to go with something bold and bright for a fun pop of color, or tone it down with neutrals. There are a variety of colors, materials, shapes, and patterns giving you a wide range of options to choose from.
Let's first consider height.
Commonly, backsplash is used for a touch of color and texture to break up the painted walls in the space. For just a hint of tile you can bring your backsplash up to the bottom of the lowest cabinet or open shelf.
deringhall.com
For more of a focal point bring your tile all the way up to the ceiling for areas where there are no cabinets, like above the sink or stove. Tile will take the place of any blank wall, so choose a shape, color, and texture that you're certain you will love.
Now let's consider countertops.
Because there is no space between the backsplash and countertops make sure the two materials and colors work well with one another. If you have a more neutral countertop, this is where you could play around with a colorful, unique shaped backsplash. If your countertops are  bright and bold, tone things down with a backsplash from a neutral palette.
The image below features a pink accented Morrocan tile backsplash. This may seem bold, but it doesn't overpower the space when against a white countertop and soft blue cabinets.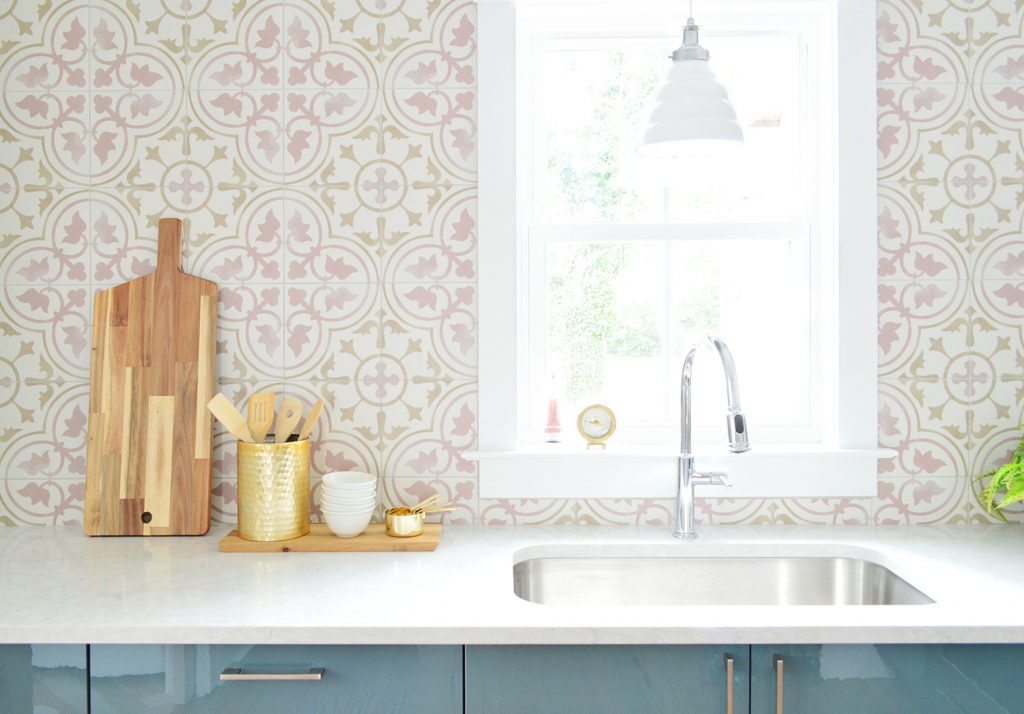 Don't be afraid to play with different shaped tile, bright colors, or changing up the layout of your tile for contrasting elements.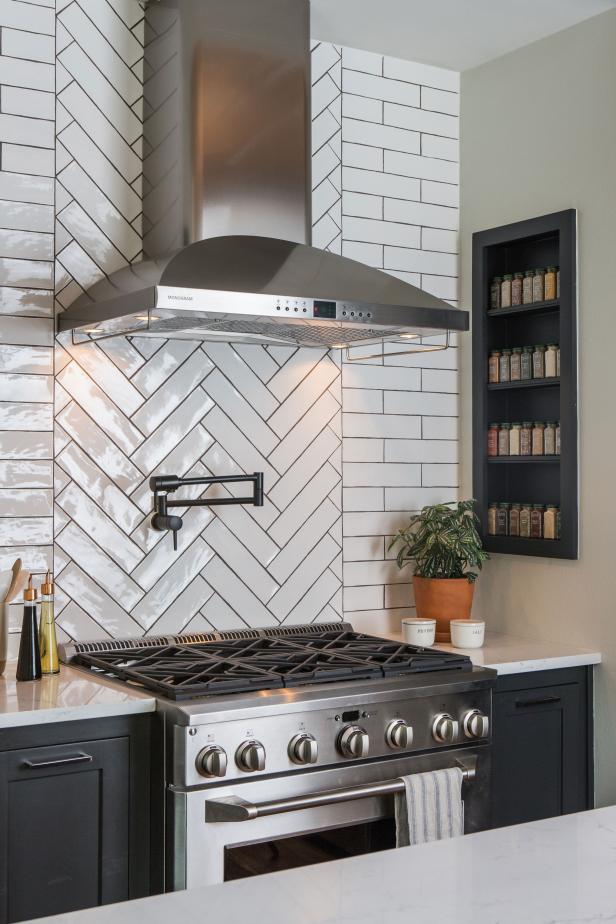 Another beautiful tile option is a solid slab backsplash. Most slab backsplashes are quartz or marble, but they can come in a variety of stones. More budget-friendly slab materials would be Corian or Caesarstone. Slab backsplashes are often seen in modern or contemporary kitchens because of their sleek, continuous design; but slabs can work with just about any style when paired with the right cabinets and counters.
With so many options for color, shape, pattern, and material, the sky is the limit for backsplashes. So many options can make the decision that hard to make! When the time comes for you to make tile decisions for your kitchen, consider these tips for a backsplash not only you love, but one that complements your kitchen seamlessly.